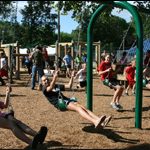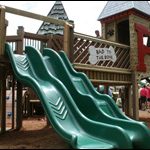 In June 2010, an active group of Rossville volunteers began a campaign to make city park a safe, fun, physically active place for children to be.
Surpassing their goal of $130,000, new equipment was designed by Rossville children and built by Rossville volunteers. This truly is a community build playground!
The new equipment includes swings, slides, tire swings, arch rock wall, chin up bar, tree house, fire pole, climbing wall, chain bridge, and the "Dawghouse".
The playground is fully accessible and features two areas: School-Aged (for kids ages 5 to 12) and the Tot Lot (for kids ages 2 to 5).